For we know that if our earthly house of this tabernacle were dissolved, we have a building of God, an house not made with hands, eternal in the heavens.
II Cor 5:1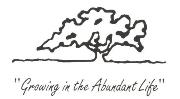 Texas Oaks Baptist Church began as a vision of Hyde Park Baptist Church to establish a mission in South Austin. With the generosity of Bill Milburn, who donated over six acres of land, and the help of Bannockburn Baptist Church, Texas Oaks Baptist Church was formed.
Dr. David Packer was commissioned as the first pastor, and began seeking people who would be interested in forming a church body. On September 10, 1989, over 40 people gathered at Kocurek Elementary School for the first worship service.
La Petite Academy became the new meeting place in January of 1990. The facilities provided opportunities for both Sunday morning and evening worship, as well as Saturday use. Members opened their homes for Wednesday night Bible Study, and both Woodlawn and Manchaca Baptist Churches allowed us to use their building for our baptismal services. God continued to bless Texas Oaks with steady growth and committed members.
In February, 1992, ground breaking ceremonies were held, and on August 7, 1992, the first service was held in the much anticipated new building. Sadly, this was also the last service to be preached by Dr Packer, who felt the Lord's call to the pastorate of First International Baptist Church in Singapore. Texas Oaks set out in search of a new pastor, and in December of 1992, Reverend Dick Lindsey joined in the vision for South Austin.
In the fall of 1999, the church voted to add a new building. After nearly a year of rezoning and obtaining permits from the city, a ground breaking ceremony was held and the new building was started in January of 2001 and was complete by the fall. Even before it was finished, the first service was held in July of 2001. After final construction, all services were moved to the new sanctuary. The old sanctuary was converted by the men of the church into the fellowship hall and classrooms we have today. Under the direction of a contractor, the men of TOBC put up the walls and moved the baptistery from the old sanctuary to the new one.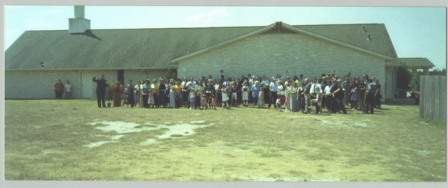 Ground Breaking 2001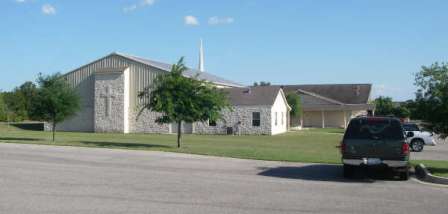 New/Current Church Building
Texas Oaks has had many good gospel preaching pastors in its history; in addition to Dr. Packer and Reverend Lindsey, pastors Chris Keathly, Rob Jones, Kenny Wrubel and now Pastor James Torrey, have shared the gospel with many people, many of whom have come to know the Lord Jesus Christ as their Savoir.
In the years to come, let us continue to work together in sharing the great love of Jesus in South Austin. Check out our service times in the tab labeled "Our Schedule" at the top of this page. We'd love to have you come visit us and become a part of keeping the vision alive and growing in South Austin.